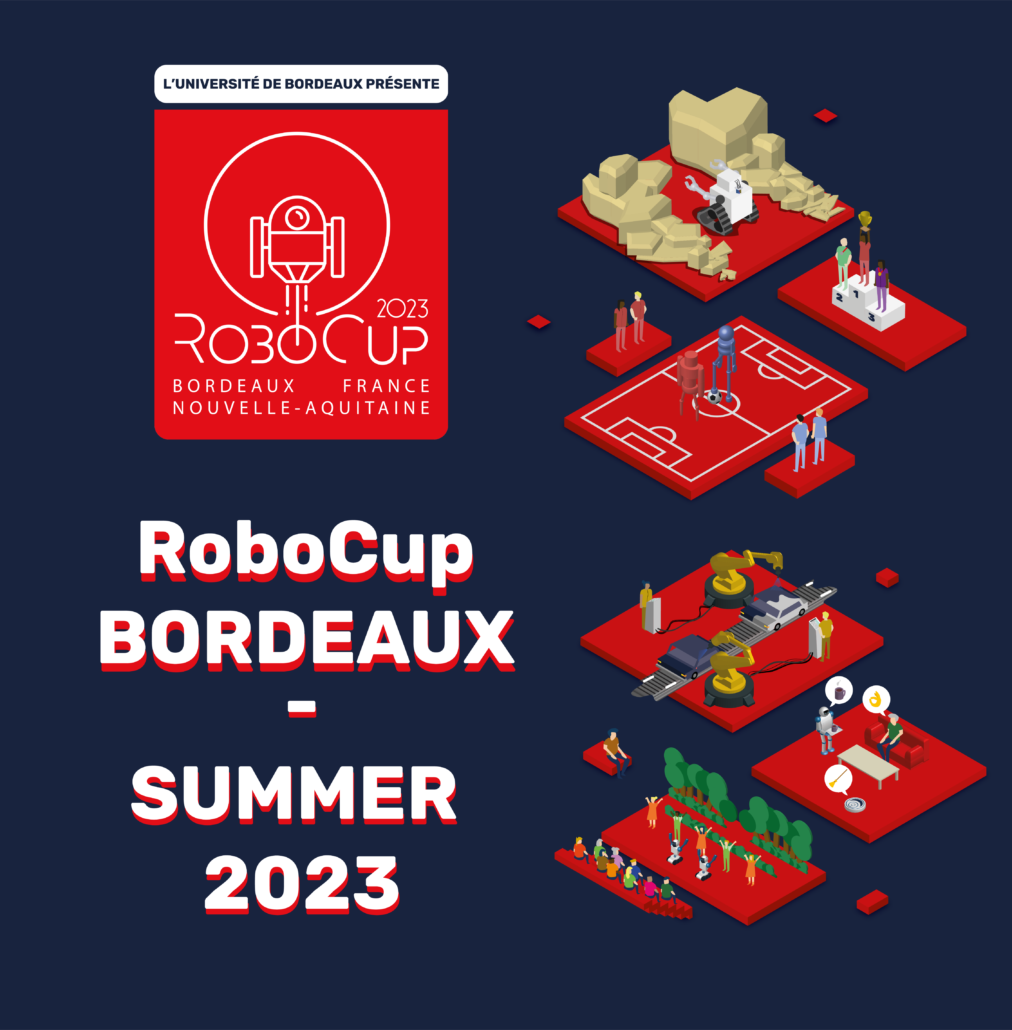 The University of Bordeaux, on behalf of the local organizing committee, and the RoboCup Federation have taken the decision to reprogram the RoboCup in 2023 in Bordeaux. Indeed, the gathering of 3,500 international competitors and 40,000 expected visitors is impossible given the international health crisis we are going through.
The dynamics initiated by the RoboCup will be embodied by the second edition of NAIA, the New Aquitaine IA forum, scheduled for autumn 2021, which now becomes NAIA.R adding the robotics dimension to its programming.
NAIA.R will be held in for 3 days from December 9 to 11, at H14 in Bordeaux and will offer over 5,000 m2 of space for demonstrations, booths, professional meetings, workshops, Talks and conferences. The event will bring together professionals from these sectors, represented by the Aquitaine Robotics cluster and RoboCup partners. However, if sanitary conditions do not allow it, a digital version will be proposed and maintained.
Initially scheduled for RoboCup 2021, many associated events supported by the New Aquitaine Region, Bordeaux Métropole and the Bordeaux Rectorat, such as demonstrations of agricultural robotics, the "RoboCup Experience" for the general public and educational visits for young people will also take a major place in the event's program.
With the ambition to position NAIA in a perennial way as the essential meeting place of the ecosystem in New-Aquitaine, the organizers of the event, "Sud Ouest", Suez, the University of Bordeaux, in partnership with the New-Aquitaine Region, have entrusted Olivier Ly, professor at the University of Bordeaux, president of the RoboCup France committee, head of the world champion Rhoban team, with the task of leading the scientific committee of NAIA.R 2021.
The RoboCup Federation also announces that a 2021 edition will be organized in a 100% digital format for the competitors. This will allow the international community of RoboCuppers to remain active. Since 2019 in France, 500 junior teams and a dozen major teams have already come to enrich the robotics community.
Find the news of the community, and of the junior RoboCup competitions on the RoboCup networks and on www.robocup.fr
The university of Bordeaux,
The RoboCup Federation,
and "Sud Ouest" group
https://2023.robocup.org/wp-content/uploads/2022/10/RBC23-logo-big-1-300x97.png
0
0
Déborah Plat
https://2023.robocup.org/wp-content/uploads/2022/10/RBC23-logo-big-1-300x97.png
Déborah Plat
2021-01-26 14:10:44
2021-01-26 14:14:53
The RoboCup reprogrammed in 2023 in Bordeaux ; NAIA.R, the Neo-Aquitaine Forum of AI and Robotics - NAIA augmented version - gives RDV to the scientific and professional ecosystem from December 9 to 11, 2021.